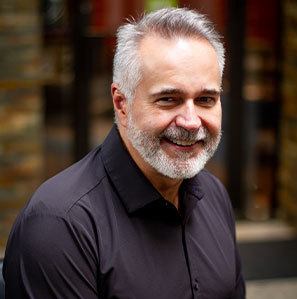 Dr. Greg T. Harvey
Dr. Greg Harvey graduated from West Virginia University School of Dentistry in 1991 after completing his undergraduate degree in biochemistry at Clemson University. Dr. Harvey continues his education monthly with online study and has received advanced training in General Practice Residency (GPR) at Charleston Area Medical Center (CAMC) in Charleston, West Virginia. He has also been in the Gordon Christenson Fellowship at Scottsdale Institute for Dentistry (now the Spear Institute).
Dr. Harvey is a proud member of the American Dental Association®, West Virginia Dental Association, New River Dental Society, Dental Organization for Conscious Sedation and the American Academy of Facial Esthetics. His goal as a dentist is to serve his patients with kindness and respect while calming their fears and anxieties to give them confidence in their smiles.
Outside of the office, Dr. Harvey loves to spend time with his three sons Dylan, Jagger and Lennon. He also enjoys mountain biking, scuba diving, traveling, exercising and going to rock concerts.
---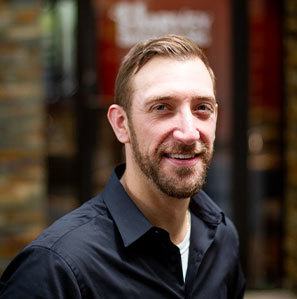 Dr. Alex K. Daniele
Dr. Alex Daniele completed his undergraduate studies at Tufts University in Boston, MA, where he majored in quantitative economics. Dr. Daniele then attended the WVU School of Dentistry, from which he graduated in 2018. He completed a one-year Advanced Education in General Dentistry residency in California following dental school, and pursues continuing education courses regularly to remain at the forefront of the dental field. As a dentist, Dr. Daniele is committed to providing his patients with the best care possible and helping them achieve beautiful, healthy smiles.
Dr. Daniele worked with Dr. Harvey for eight weeks during dental school while on rural rotation, and in August 2019 moved back to Beckley to join our team. He is excited to be here in Beckley, and to meet our patients! Dr. Daniele is a member of several professional organizations, including the American Dental Association®, the Academy of General Dentistry, the New River Dental Society and the Delta Sigma Delta Dental Fraternity.
Dr. Daniele's home town is San Diego, CA. He has a beautiful, majestic husky-German shepherd mix named Rigby. His hobbies include tennis, golf and guitar.
---
Dr. Carly Rojas
Dr. Carly Rojas received her Doctor of Dental Surgery degree at the West Virginia University School of Dentistry before joining our team in July 2022. She studied exercise physiology in her undergraduate and continues to be very driven and hardworking when it comes to her continuing dental education and her commitment to patient care. She is always learning more about the most up-to-date dental technology and techniques, and she loves working with a team that shares her passion for patient experience.
When is not working with patients, Dr. Rojas enjoys cooking, working out, playing tennis and spending time with her husband, Nico.

Meet Our Team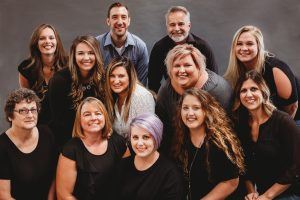 Our team is dedicated to helping you reach your oral health goals. We provide a variety of treatments to help you create the beautiful smile and healthy strong teeth that you've always wanted. Read on to learn more about our team. If you have any questions about our practice and the dental services in Beckley, West Virginia, we provide, please call Harvey Dental Studio at 304-253-0506 to learn more.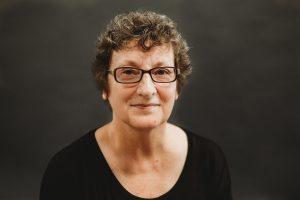 Trina Fitzwater — Accounts Payable Manager
Trina has worked in various accounting and bookkeeping jobs since she was 18. She handles our accounts payable and loves the teamwork shown at Harvey Dental Studio.
Trina is a West Virginia coal miner's daughter and loves to be with her mom, her two brothers and her dog Molly. When she's not in the office, Trina enjoys beekeeping, boating, gardening, flying and diving.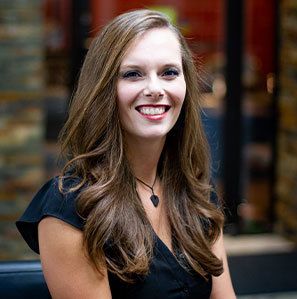 Rachel Rahall — Office Manager
Rachel has been with our practice since 2012 and helps us by scheduling the providers and keeping the flow as efficient as possible. Her favorite part of working here is the sense of family and teamwork, as well as the fun environment.
Rachel loves the outdoors, spending a lot of time hiking, rafting and camping. She also loves to spend time with her wonderful family.
Arnoldo Solis — Financial Coordinator
Arnoldo started at our office in September 2022. He has a bachelor's degree in business administration and has also been a dance teacher and English as a Second Language teacher. Arnoldo helps this office be successful by doing everything with a big smile.
Arnoldo's parents and siblings live in his home country, Honduras. Outside of work, he enjoys cooking, baking, reading, writing, dancing and watching anime, films and tv.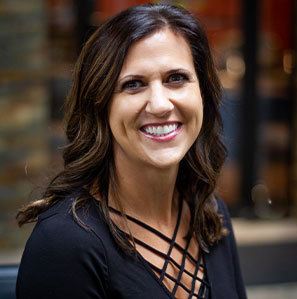 Amy Crosier — Dental Hygienist
Amy has an associate degree from WVUIT and has been with Harvey Dental Studio since 2001. She works hard to keep our patients happy and loves to build a trusting relationship with each person who comes into our office. Amy's favorite part of working here is the professional and caring atmosphere, as well as having fun doing what she loves.
In her free time, Amy likes biking, running, being outdoors and spending quality time with her husband and two sons.
Kenzie Lawson — Dental Hygienist
Kenzie started as a dental assistant in 2016 before going on to graduate from dental hygiene school. She has worked at our office since May 2022, and her favorite part about working here is everyone's love for helping others. When she is not working, Kenzie likes to camp and kayak.
Lindsey Thomas — Dental Hygienist
Lindsey graduated from BridgeValley CTC in 2022 and started at our office that same year in May. She loves how this office reaches a wide range of patients from all different walks of life and how the whole team always remembers to have fun and keep things light-hearted to make the days go by easier.
Lindsey loves going home to her partner, Ciara, and their 5-year-old daughter, Blair, at the end of a long day. Outside of work, she loves reading horror novels, going on walks to the park with her daughter and taking last-minute weekend trips out of town.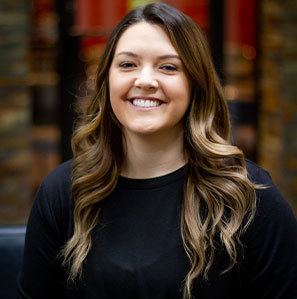 Katelyn (Katie) Lester — Dental Hygienist & Hygiene Assistant
Katie graduated from the Bridge Valley dental hygiene class in 2020 (despite challenges with COVID-19!) and joined our team in June 2020. She loves being a part of a practice that goes above and beyond for each individual patient. She believes that teamwork is an essential part of any practice, and she loves learning new skills and teaching others anything she can. She believes each team member brings their own individual strengths to the team.
Katie is very grateful for her family, who she feels is her support system and has given her the positive reinforcement to get her where she is today. She is currently devoting a large amount of her time studying for board exams, but when they are over, she plans to relax and spend time outdoors.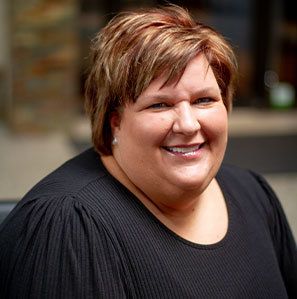 Kim Lowe — Lead Assistant
Kim graduated from WVU in 2001 and has been with our practice since 2014. She contributes to the success of our office by being super organized and making our patients comfortable by making their experience fun. Kim taught dental assisting for three years and continues to work at the WVU School of Dentistry. She enjoys working with patients and learning new things all the time. Dentistry is a big part of her life, and she loves how close our team is to our patients, feeling like one big family. She even works at the free clinic to provide dental care for the uninsured.
When she isn't in the office, Kim spends a lot of time with her family, watching her nieces and nephews play sports, and tending to her beloved dog and pig. She also enjoys watching football and baseball, as well as going to games and crafting.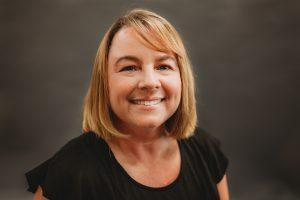 Kathy Treadway — Dental Assistant
Kathy has been in the dental field for over 16 years. She loves to get to know her patients and gain their trust in order to more fully meet their oral health needs. She is grateful for the kindness and compassion that Dr. Harvey and the rest of her team members have shown since she joined the practice.
In her free time, she loves walking, fishing and spending time with her family.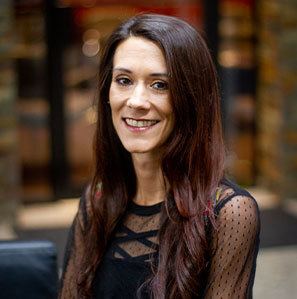 Jessica Allen — Dental Assistant
Jessica joined our team in May 2020 and loves being part of a practice that cares so much about the patients. Outside of the office, she has two identical twin boys and loves spending time with them and the rest of her family. She also loves to practice on her aerial silks and enjoys anything scary!
Adrianna Boggess — Dental Assistant
Adrianna started at our office in August 2022. She loves how everyone she works with is willing to help in any situation and/or show and teach you. Adrianna contributes to the office's success by being willing to help anywhere and learn anything.
Adrianna is married and has two kids: a one-year-old and two-and-a-half-year-old. Outside of the office, she loves outdoor activities: kayaking, caving and rappelling.
Emmy Snodgrass — Dental Assistant
Emmy started at our office in June 2022. She graduated summa cum laude in 2022 from IHS/A.C.T. and was in the top 15% of her class. She loves helping people be confident in their smiles. Emmy always tries to maintain a positive attitude and work as hard as she can to get things done.
Outside of work, Emmy enjoys baking cakes, playing her bass guitar and watching Disney.